Memorial Service
UPDATED ANNOUNCEMENT (post date – August 10, 2021)
Dear family and friends of the DeafBlind community,
We hope that you are all safe and healthy during the current rise of COVID infections. Due to safety precautions and lack of tactile interpreters, we are making changes to the memorial service for Charlotte Whitacre, Mary Helen Pearl, and Anne Powell this Saturday.
THIS SATURDAY:
We will still have the memorial service in the chapel in Livermore for the few people who are still coming in person. The Zoom link will be the same. The memorial service will be recorded through Zoom.
POSTPONED to March 12, 2022:
We will watch the Zoom recording of the memorial service with tactile interpreters provided and access for all. We will have lunch provided and sharing of memories on this day. Please mark your calendars and stay tuned as the date comes closer.
We look forward to gathering together again and fully celebrating the lives of Char, Mary Helen, and Anne, in person and safely.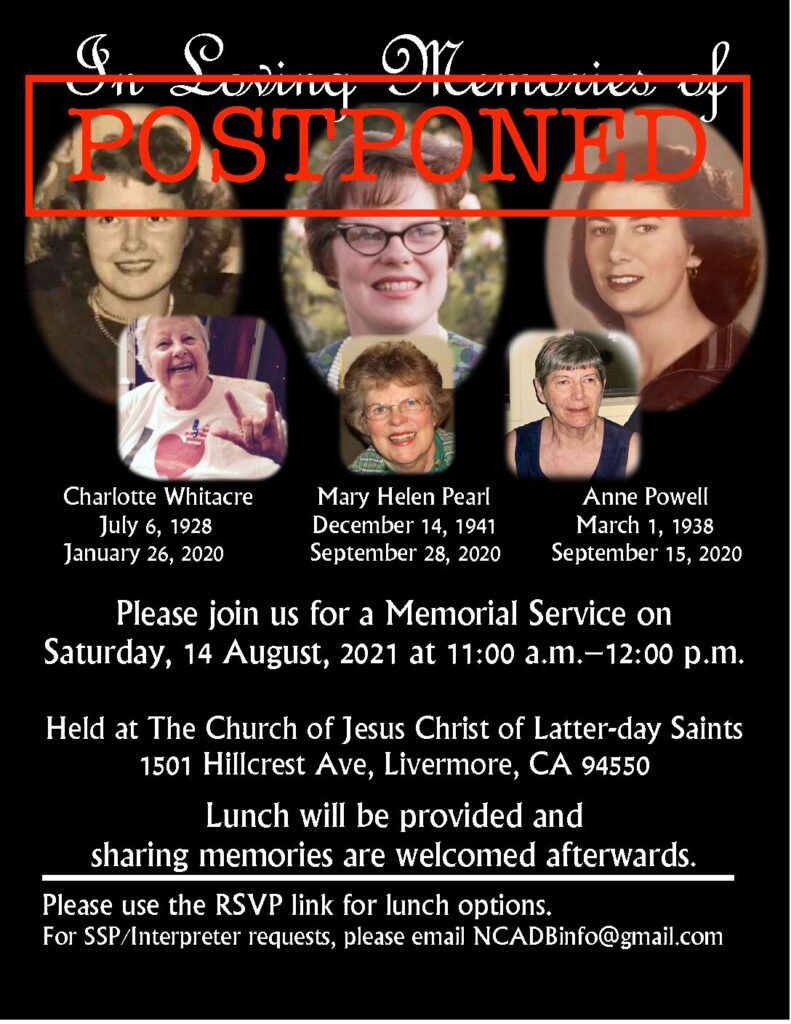 Please spread the word to your family and friends. Thank you.
The attached flyer has black background all throughout; "In Loving Memories of" is on the top in a large cursive font. There are six photos laid out in a collage, two pictures of each loved one. Visual descriptions of each pair of photos are on the bottom.
Flyer text:
Please join us for a Memorial Service on
Saturday, August 14, 2021 at 11:00 a.m. – 12:00 p.m.
Held at the Church of Jesus Christ of Latter-Day Saints
1501 Hillcrest Ave, Livermore, CA 94550
Lunch will be provided and sharing memories are welcomed afterwards.
————————————————————————–
Please use the RSVP link for lunch options.
For SSP/Interpreter requests, please email NCADBinfo@gmail.com
Visual descriptions:
On the top left photo in sepia tone, young Charlotte Whitacre in her 20s is looking slightly upwards with a smile, adorned with lipstick. She is wearing a dark-colored blouse with a short double necklace. Her dark hair is curly, shoulder-length with a pronounced side part that was customary in the 1950s. Right below in candid color, Char in her 80s is giggling and waving the ILY sign. She is wearing a white T-shirt with the I love NY logo with a red apple. She is wearing a small red-white-blue patriotic ILY pin above her heart. Her hair is silvery and pixie-cut. This photo is overlapping the younger photo on the right corner.
(in white Arial font)
Charlotte Whitacre
July 6, 1928
January 26, 2020
On the top middle photo, young Mary Helen Pearl in her 20s is looking slightly upwards with a soft smile, with thin cat-eye glasses that has one diamond studded in both corners. Her eyes are blue. She is outside with some greenery faded in the background, and is wearing a blue and purple floral dress. A few rows of pearls are draped around her neck. Her medium brown hair is short all around and softly curled with light bangs on the front. Right below in candid color, Mary Helen in her 60s is leaning slightly forward in a green plaid shirt. She is looking straight at the camera with thin-rimmed glasses and dark pink lipstick. Her short brown hair is curled and combed back evenly on the top and sides, with a light shade of grey hair on the sides of her face. Her smile is content and her caring eyes are twinkling. This photo is overlapping the younger photo on the bottom.
(in white Arial font)
Mary Helen Pearl
December 14, 1941
September 28, 2020
On the top right photo in sepia tone, young Anne Powell had recently graduated and is wearing a brown jacket with a large collar. She is in a portrait studio. Her dark shoulder-length hair is pinned back and is softly molded and fluffy, revealing a small gold loop earring on her left ear. She is leaning to her right and her eyes are looking straight at the camera with a small smile. Her teeth is brilliantly white and she is wearing dark red lipstick. Right below in candid color, Anne in her 60s is wearing a thick tank-top navy blue shirt or dress. Her salt-and-pepper hair is pixie-cut with short prominent bangs. She is smiling slightly. This photo is overlapping the younger photo on the left corner.
(in white Arial font)
Anne Powell
March 1, 1938
September 15, 2020
ZOOM INFORMATION:
Topic: Memorial Service in Livermore, CA
Time: Aug 14, 2021 11:00 AM Pacific Time (US and Canada)
Join Zoom Meeting
https://us02web.zoom.us/j/81482169194?pwd=RjM1c3dHS3BhaGFST2JWclplSUVJZz09
Meeting ID: 814 8216 9194
Passcode: 260187